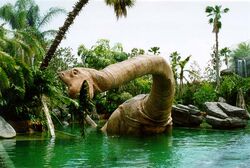 Ultrasaurus was a large sauropod dinosaur that lived during the Early Cretaceous Period in what is now South Korea. A holotype specimen of Ultrasaurus from the Jurassic period in Colorado turned out to be a mixture of Supersaurus and Brachiosaurus, meaning it was not even a true genus. Ultrasaurus is now just an alternate name for the dinosaur officially known as Supersaurus.
Theme Parks
Edit
Two Ultrasaurus appear in the Jurassic Park: The Ride attractions in Hollywood and Japan. It also appears in the identical Jurassic Park: River Adventure attraction in Orlando.
The Ultrasaurus are located in a section called Ultrasaur Lagoon. They spend most of their in the water, eating aquatic plants. One Ultrasaurus is an adult, the other a smaller infant. They share their section with Psittacosaurus.
Community content is available under
CC-BY-SA
unless otherwise noted.