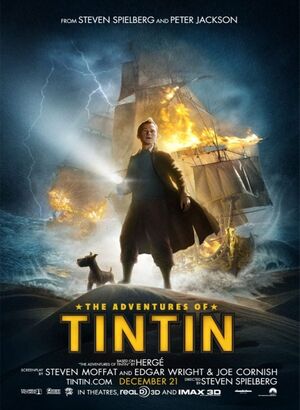 The Adventures of Tintin is a 2011 animated film directed by Steven Spielberg. It is based on The Adventures of Tintin by the Belgian artist Georges Remi, who was known better by his pen name, Hergé.
Spielberg was inspired to make Tintin's adventures into a movie after reading the stories. He saw much of himself in Tintin. "I became enthralled with the way Hergé told his stories. Grand, epic, global adventures about a young reporter who goes all around the world looking for stories to tell and then gets himself deeply involved in the stories he's telling. I always related to that because I do the same thing." [1]
↑ Murphy, Mekado."The Hair Remains the Same". The New York Times, Christmas 2011.
Community content is available under
CC-BY-SA
unless otherwise noted.