Dimorphodon
Background information
Feature films
Jurassic World
Short films
Feature firsts
Feature lasts
Television programs
Video games
Park attractions
Portrayed by
Portrayed by
Animators
Voice
Performance model
Designer
Inspiration
Honors and awards
Character information
Full name
Other names
Personality
Hungry, energetic, free
Appearance
A small pterosaur with beak and wings
Birthday
Age
Occupation
Hunter
Alignment
Affiliations
Alignment
Bad
Goal
Home
Isla Nublar
Relatives
Pets
Allies
Each other, Pteranodon, Indominus rex
Minions
Themselves
Enemies
Everything
Likes
Food, eating, water
Dislikes
Being killed, dying, being injured, starvation, thirst
Powers and abilities
Flight, wings
Weapons
Beak, claws
Fate
Getting shot by Claire Dearing
Quote
[Source]
Background
Edit
Dimorphodon was recreated by InGen for the Masrani Global Corporation owned dinosaur park Jurassic World.
Unlike the original Dimorphodon, these clones had only one type of teeth instead of two, their wingspan was one meter longer than the originals, and they were said to be able to use their back legs for grasping objects like the cloned Pteranodon. Their colors were blue-ish gray on top and mostly gray on the stomach with pink on its face. On the neck and back, they have thick pycnofibers that all pterosaurs had in real life but is rare in InGen's cloned pterosaurs.
They are said to chirp like modern birds do.
Dimorphodon lived in the Jurassic World Aviary as neighbors to the larger Pteranodon.
Appearances
Edit
Jurassic World
Edit
Isla Nublar Incident (2015)
Edit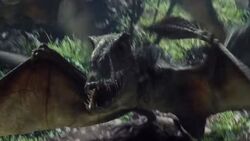 During the rampage of Jurassic World's latest attraction Indominus rex, all the residents in the Aviary, including Dimorphodon, were freed when the Indominus rex broke into the Aviary in its rampage, creating a large opening the Aviary. The pterosaurs then escaped and wreaked havoc on the island. A mixed flock of Dimorphodon and Pteranodon traveled to the Main Street of Jurassic World where they attacked the human visitors in the area, when Gray, Zach and Zara were stuck in the Main Street. Gray attempted to run to safety but this almost lead to him being decapitated by a Dimorphodon but luckily Zach pulled him back just in time. One Dimorphodon attempted to attack Owen Grady by pouncing on him and tried to maul his face but it was shot down by Claire Dearing who picked up a dropped gun.
One Dimorphodon managed to fly out of Isla Nublar, but was soon killed by an InGen Soldier who saw it flying when he was being transported to the island.
Community content is available under
CC-BY-SA
unless otherwise noted.