Brachiosaurus
Background information
Feature films
Jurassic Park
Jurassic Park III
Short films
Feature firsts
Feature lasts
Television programs
Video games
Park attractions
Portrayed by
Portrayed by
Animators
Voice
Performance model
Designer
Inspiration
Honors and awards
Character information
Full name
Brachiosaurus brancai
Other names
Personality
Slow, friendly
Appearance
Large pale and brown (Jurassic Park)
Birthday
Age
Occupation
Plant eaters
Alignment
Affiliations
Alignment
Good
Goal
To survive and not be eaten
Home
Isla Nublar
Isla Sorna
Relatives
Pets
Allies
Each other, Parasaurolophus, Ankylosaurus, Stegosaurus
Minions
Enemies
None
Likes
Food, eating, water
Dislikes
Being killed, dying, being injured, starvation, thirst
Powers and abilities
Strength, roars, rearing onto hind legs
Weapons
Feet
Fate
TBA
Quote
[Source]

Brachiosaurus was a sauropod dinosaur that lived during the Late Jurassic Period. In the Jurassic Park franchise, it has appeared twice in Jurassic Park and Jurassic Park III.
Background
Edit
TBA
Appearances
Edit
Jurassic Park
Edit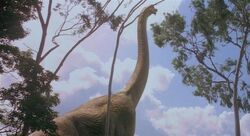 The Brachiosaurus was the first dinosaur encountered by the endorsement team hired by InGen to make sure Jurassic Park was safe for visitors. The entire team was amazed. Dr. Alan Grant and Dr. Ellie Sattler were the most awestruck of the group because the Brachiosaurus was terrestrial, not semi-aquatic swamp dwellers they had thought they were.
When Dennis Nedry disabled Jurassic Park's security systems, the security fences that kept the prehistoric animals from escaping their enclosures were disabled as well, Brachiosaurus was one of the dinosaurs that were able to roam freely.
After fleeing from the Tyrannosaur Paddock, Dr. Alan Grant and Tim and Lex Murphy climbed a tree where saw a herd of Brachiosaurs feeding on the nearby trees, hooting in the distance. Dr. Alan Grant heard their calls and attempted to imitate them to successful results. The following morning, a Brachiosaurus sick with a cold or a similar disease fed on the tree that the three humans were sleeping in, waking them up. Lex panicked at the sight of the dinosaur, believing it to be dangerous at first, but she soon calmed down when Dr. Alan Grant and her brother showed her that it was harmless. Dr. Grant fed the Brachiosaur a nearby branch that was on the tree and Tim Murphy even pet it. However, when Lex attempted to pet the dinosaur like her brother did, the Brachiosaur responded by sneezing on her. The humans and the Brachiosaurus later went their separate ways.
It is unknown what happened to the Brachiosaur populations on Isla Nublar after the Isla Nublar Incident of 1993.
Jurassic Park III
Edit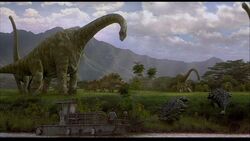 Passengers of the plane N622DC saw a herd of Brachiosaurus during their fly-over of Isla Sorna at the beginning of the Isla Sorna Incident of 2001.
Another herd was seen by Dr. Alan Grant and the Kirby family at a river bank.
Brachiosaurus is the only dinosaur to be given a possible maximum age. The encyclopedia included with DVD of the first film puts their age at a maximum of two-hundred years.
Community content is available under
CC-BY-SA
unless otherwise noted.